Coronavirus – a fast-moving infection originating in China – has spread to more than 110 countries and claimed more than 4,200 lives.
While the vast majority of cases are in China, the virus, which causes pneumonia-like symptoms, is now spreading faster outside the country than within. Italy, Iran and South Korea have the highest number of confirmed cases.
Here are maps and charts that will help you understand what is going on.
1. Cases outside China continue to grow
About 80,950 people in China have been infected with coronavirus since its emergence in the city of Wuhan, Hubei province, in December.
But there have also been over 30,000 cases outside China, according to the World Health Organization (WHO) figures.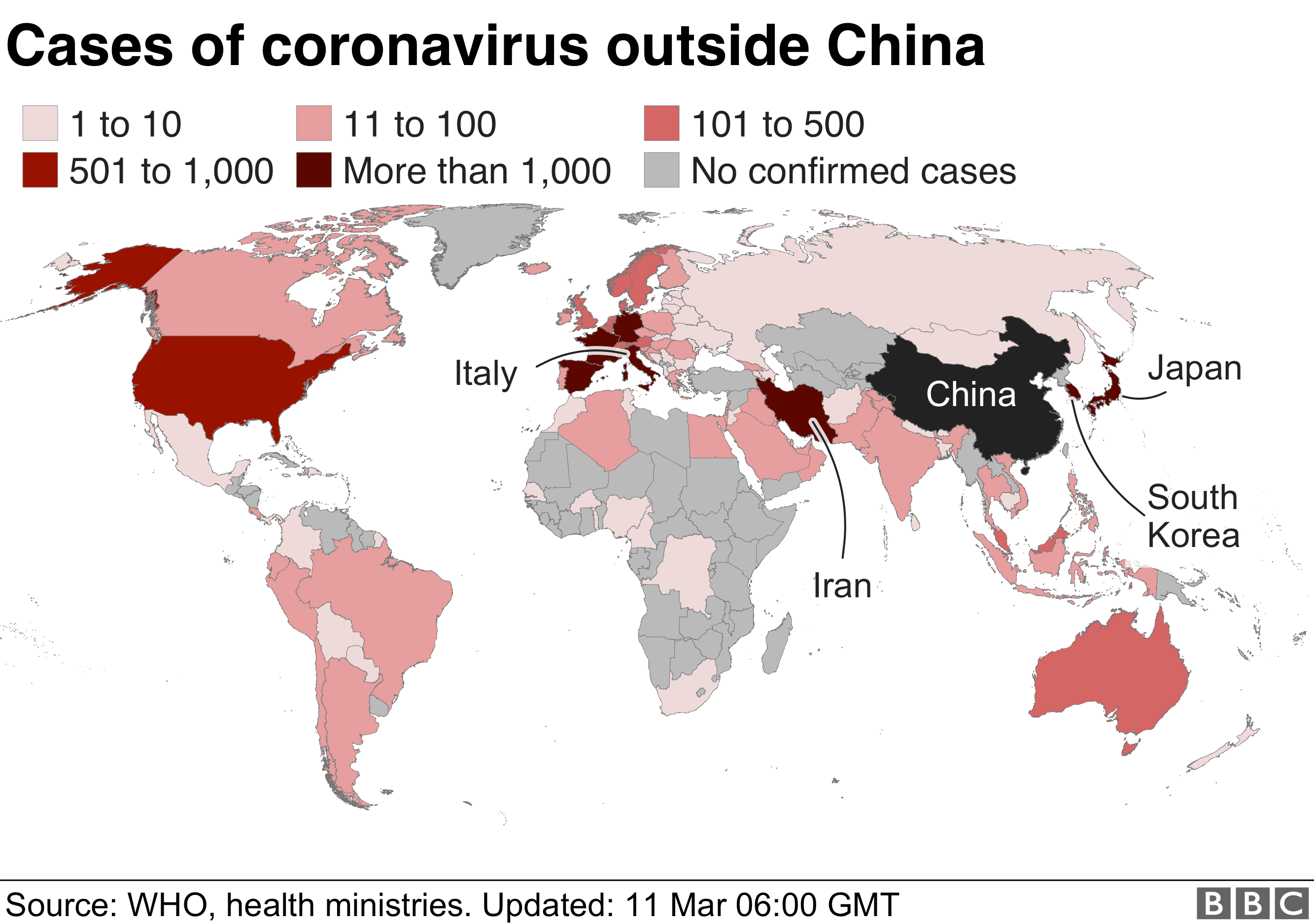 Infectious disease specialists at Imperial College London estimate about two-thirds of cases originating in mainland China remain undetected worldwide.
This could mean "multiple chains of as yet undetected human-to-human transmission" internationally, they say.
As of 11 March Italy had the most cases outside of China, overtaking South Korea and Iran.
There have been almost 5,000 new cases recorded in Italy in the last four days.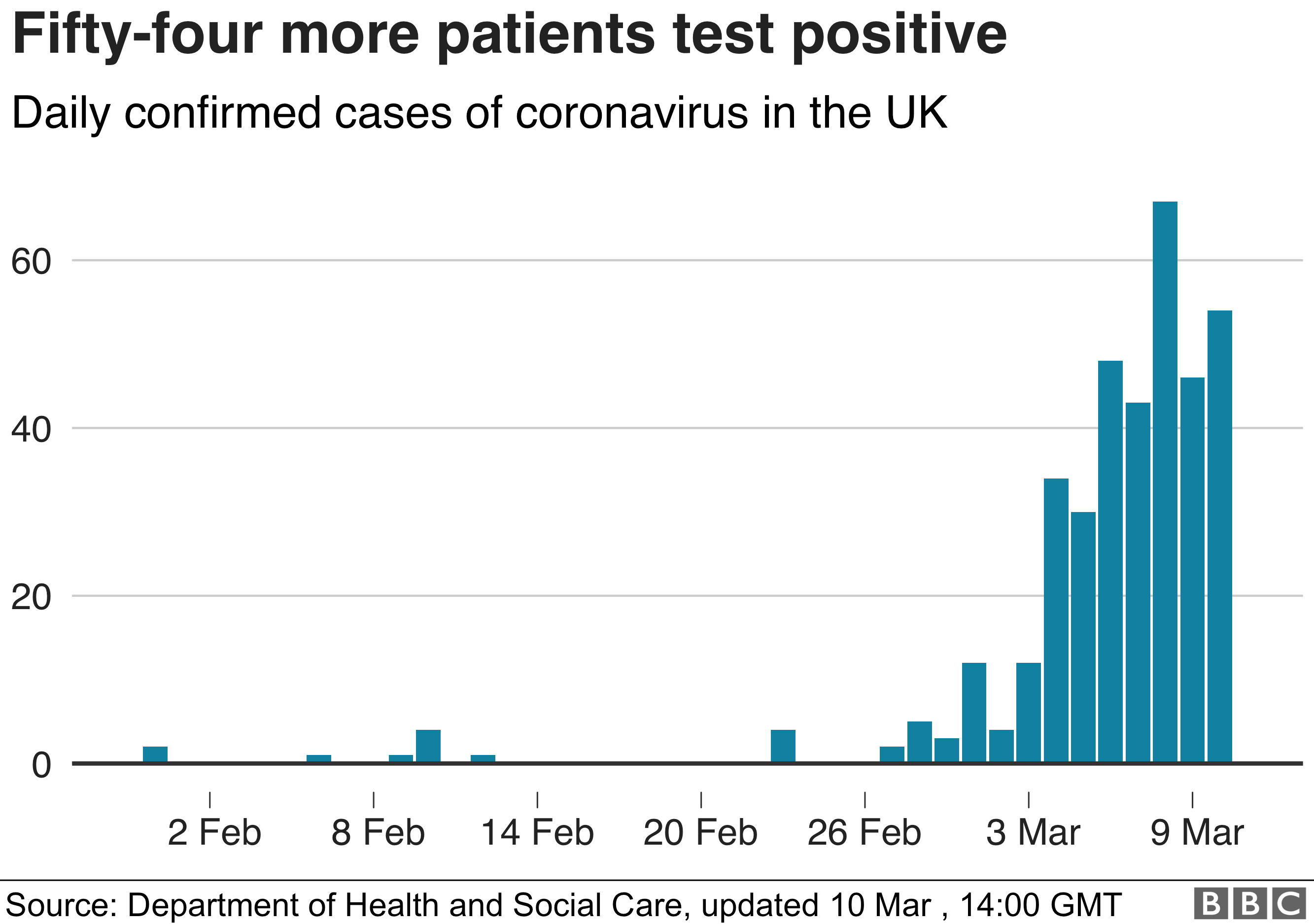 Numbers across Europe have been increasing during the last week, jumping in Italy particularly.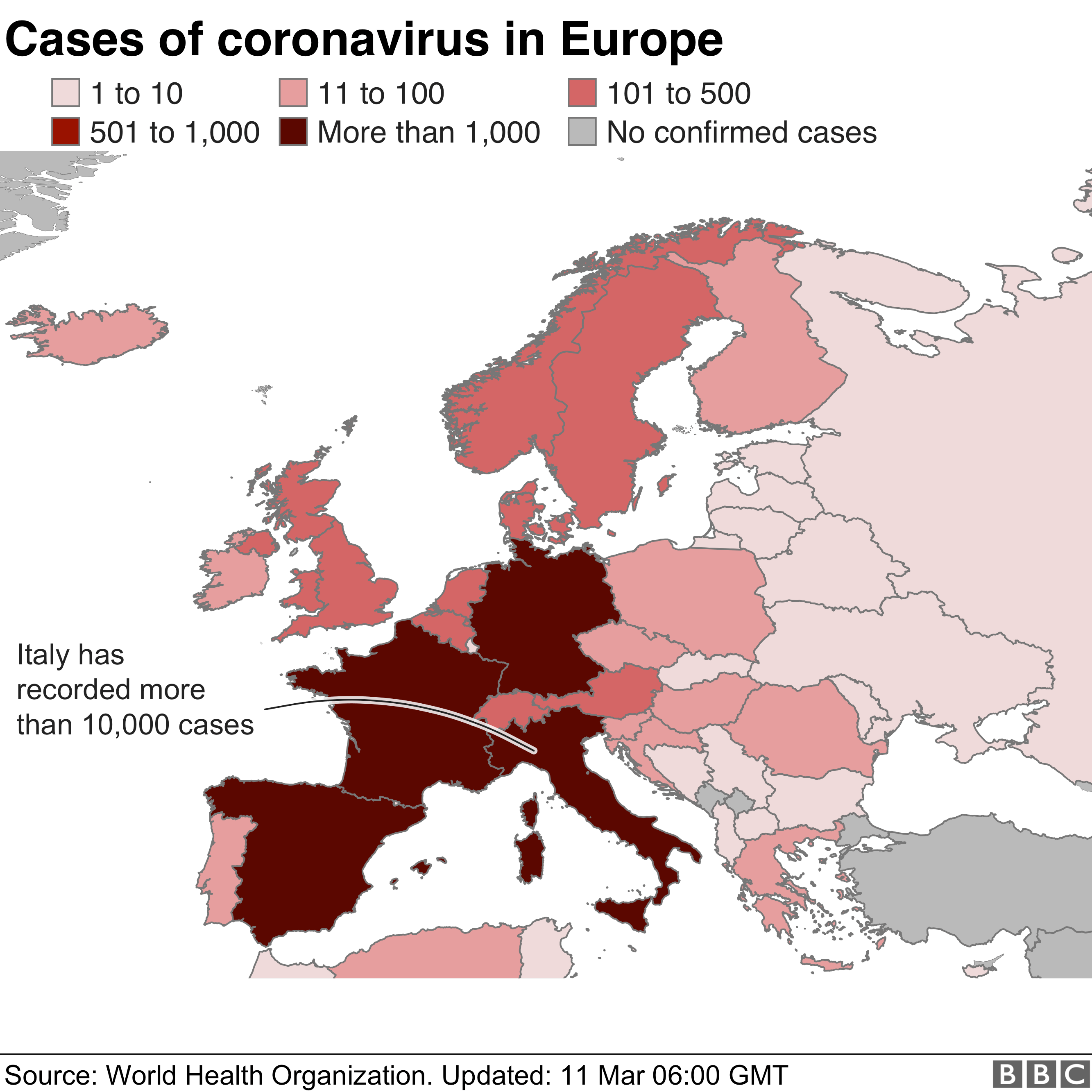 In the UK, health officials are preparing for the country to enter the second phase of their response, intended to "delay" the spread of the virus.
Prof Chris Whitty, the country's chief medical adviser, has said it is "highly likely" some people now being infected in the UK have no connection to overseas cases and the virus could spread in a "significant way".
3. Italy, South Korea, and Iran are among the worst-affected countries
In Italy, emergency coronavirus measures, which include travel restrictions and a ban on public gatherings, have been extended to the entire country.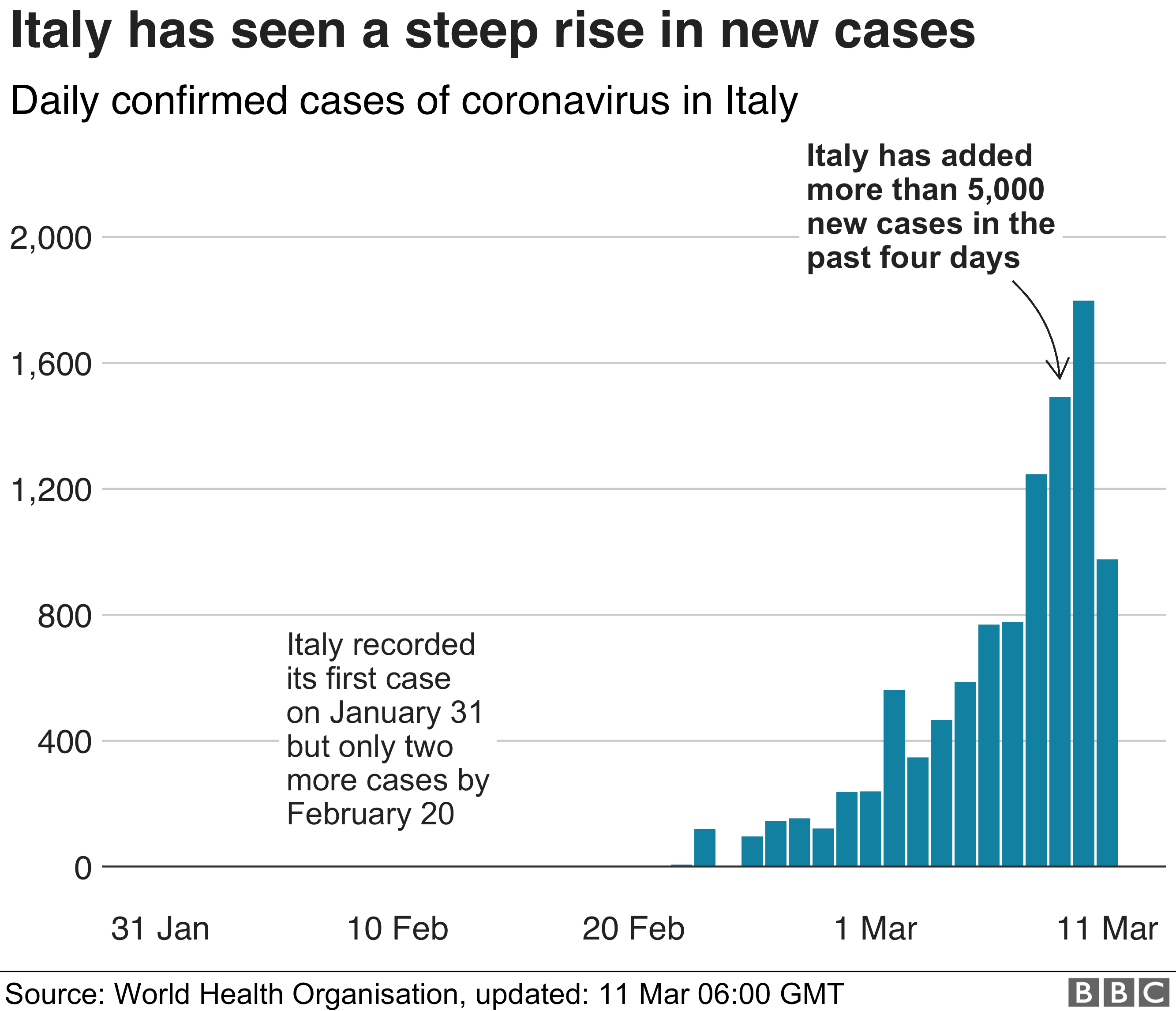 Authorities have closed the country's schools, gyms, museums, nightclubs, and other venues and ordered people to stay home and seek permission for essential travel.
Several countries, including Algeria, Denmark, Romania, and Spain, have reported infections linked to Italy. Neighbouring Austria has banned people entering the country from Italy unless they carry a medical certificate, in an attempt to stop coronavirus spreading.
A number of airlines, including British Airways, EasyJet and Ryanair, have canceled Italy flights until the start of April.
In South Korea, the biggest virus clusters have been linked to a religious group near the south-eastern city of Daegu, which has a population of around 2.5m.
But, perhaps in a sign the country is getting on top of the outbreak, officials on Monday reported the lowest number of new cases in two weeks.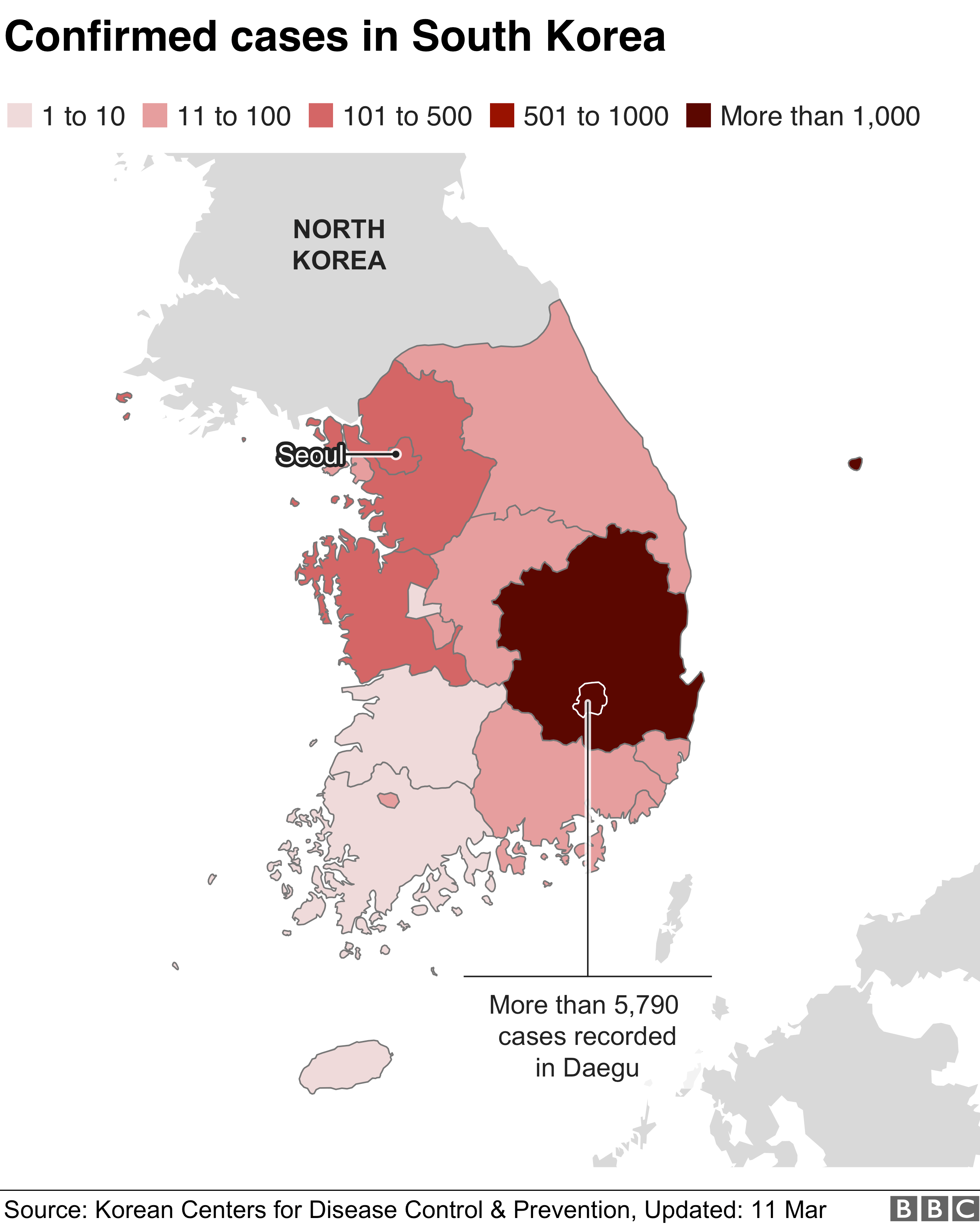 "The slowing trend should continue," President Moon Jae-in said in a statement, but warned: "We should not be complacent at all."
Many of the country's large events have been canceled or postponed and the school holidays have been extended by three weeks, pushing back the return to classes.
Iran has seen more than 8,000 cases of the virus – with most in the capital, Tehran, and the region of Qom, where cases first emerged.
Schools have been shut and major cultural and sporting events suspended. Iranian authorities have also temporarily released 70,000 prisoners in an attempt to contain the outbreak.

The country has been the source of dozens of cases in countries in the region, including India, Afghanistan, Bahrain, Iraq, Kuwait, Oman, and Pakistan.
As a result, many of Iran's neighbors have announced the temporary closure of their borders with the country.

3. The virus has pandemic potential
The rise in the number of daily confirmed cases internationally has raised fears the outbreak could become a pandemic – when an infectious disease spreads easily from person to person in many parts of the world.
WHO head Dr. Tedros Ghebreyesus has said the virus has "pandemic potential".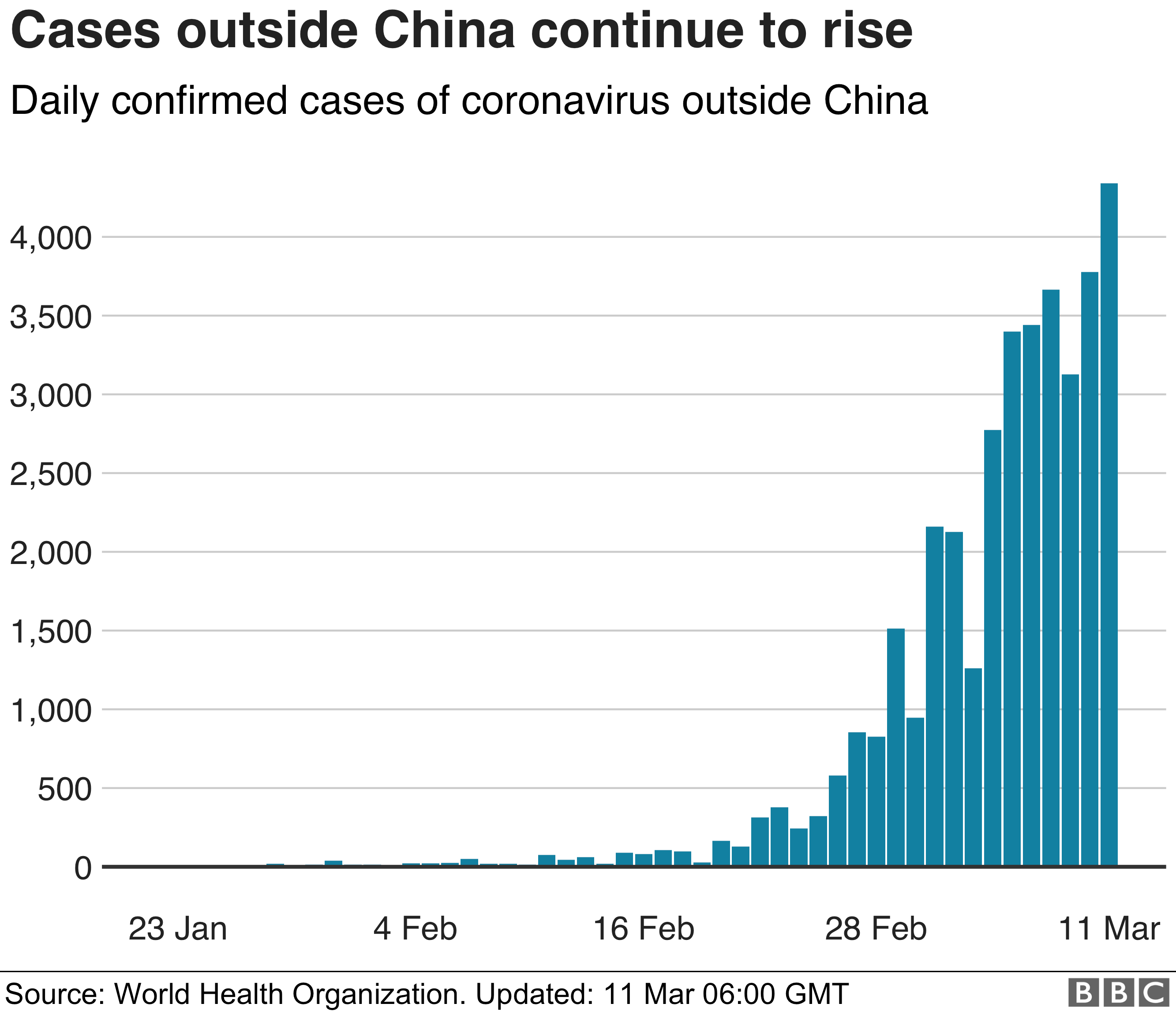 In response, countries around the world are ramping up measures to try to slow its spread.
Some governments have halted flights from virus-hit nations, locked-down towns, urged people to stay at home and suspended major sporting and social events.
A number of international conferences and sporting events have been canceled, including Six Nations rugby matches.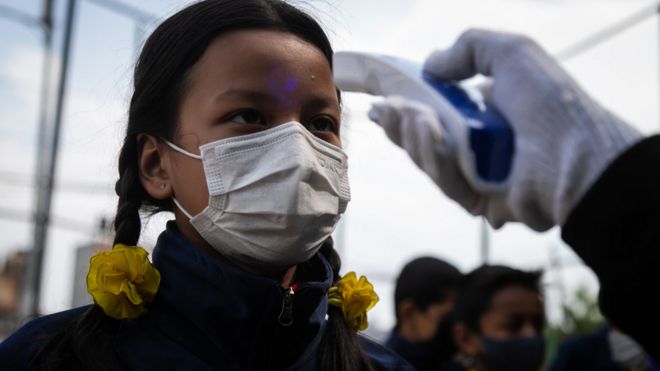 Strict border controls are in place in Japan, with arrivals from China and South Korea asked to go into quarantine for two weeks, and three million visas have been canceled. South Korea has imposed similar restrictions on Japanese tourists.
The US state of California has declared a state of emergency and in New York state a "containment zone" is in force in New Rochelle to prevent the virus from spreading.
The WHO, which declared the crisis a global health emergency on 30 January, has confirmed it will not formally "declare" a pandemic for the new coronavirus, though the term may still be used "colloquially".
International financial markets have fallen in recent days over fears that the outbreak could lead to a worldwide economic downturn.

4. China still has by far the most cases
The number of overall coronavirus cases in China has been rising since January but has been leveling off in recent days.
The country still accounts for about 80,900 of the 118,000 global cases – and thousands of more Chinese citizens are under medical observation.

Government and regional officials have imposed tight restrictions in a bid to reduce infections, including canceling flights, closing schools and workplaces and ordering some cities to go into lockdown.
The country is now tightening travel restrictions to try and prevent imported cases, so all international arrivals in the capital Beijing will have to be quarantined for two weeks
The origins of the coronavirus have been linked to illegally traded wildlife at the seafood market in Wuhan, capital of Hubei province, where the outbreak began. The exact source has not yet been identified.

5. Daily infections and deaths in China have been comparatively low recently
New cases have remained low for a number of days, compared with numbers seen in early-mid February, according to official figures.

Cases have been in the hundreds rather than the thousands for more than two weeks, following a spike in mid-February.
Officials in Hubei province have come under fire for their handling of the virus outbreak, including causing confusion by changing the criteria used to count the number of cases.
Changes to the way patients were diagnosed halfway through February caused a brief spike confirmed cases, but this change was later reversed, causing a dip.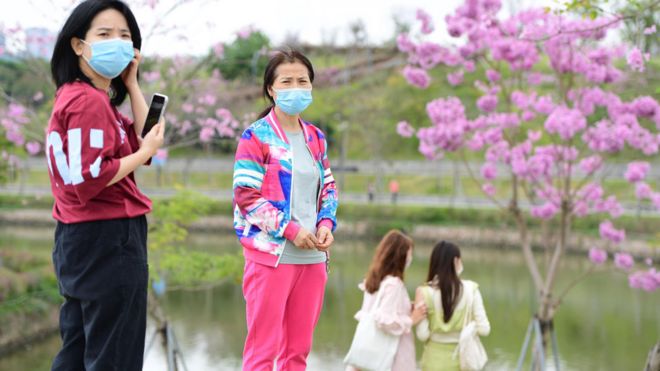 The number of deaths announced each day by the Chinese authorities has also been falling.
Like the daily confirmed cases, death figures saw a spike caused by the temporary change in diagnostic criteria.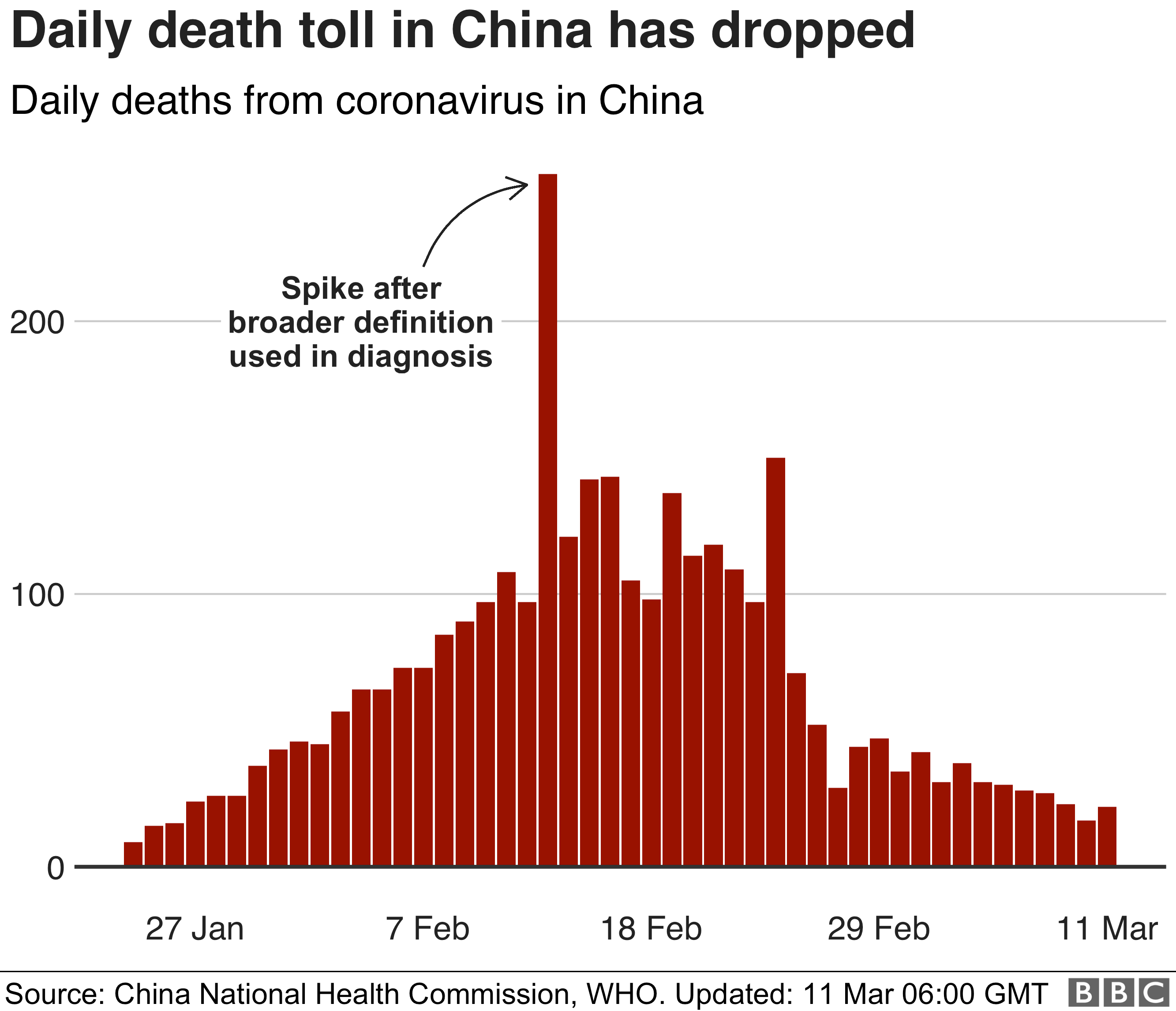 Medical researchers and scientists say it is too early to accurately predict how the virus will spread or calculate the death rate, partly due to mild cases remaining untested and unrecorded and a time lag of reporting infections.
As there is not yet a specific anti-viral treatment for coronavirus, people with the infection are currently being treated for their symptoms.
By Lucy Rodgers, Nassos Stylianou, Wesley Stephenson, and Dominic Bailey